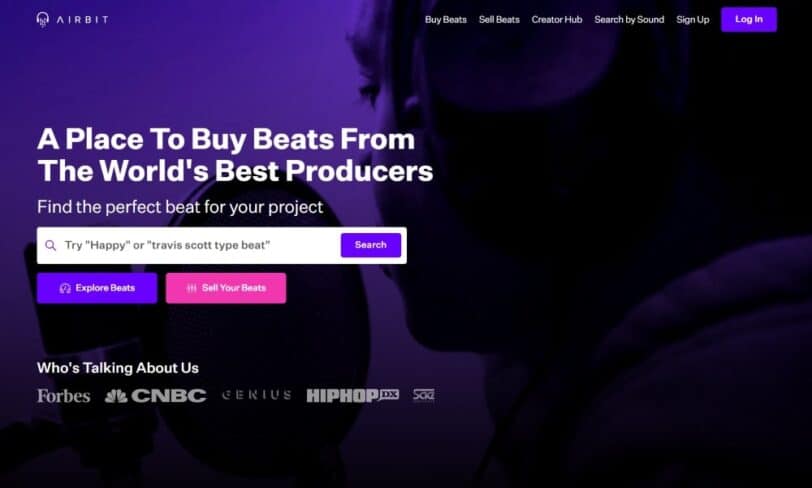 When it comes to selling beats online, there are 2 platforms that really stand out. And chances are, if you are a music producer or a beat maker, you've probably heard of them both. The top 2 beat selling platforms are Beatstars and Airbit. But, which one is better? Which platform should you join? As we move forward in this Airbit vs Beatstars debate, I'm going to break down each platform in detail and help you decide which platform is best for you.
Let's get started!
How Much Does Each Platform Cost?
Currently, Beatstars has a 3 tiered pricing model and Airbit has a 2 tiered pricing model. Both platforms have a free plan and a premium $19.99 per month plan. Beatstars also has a mid-level plan that is $9.99 per month (if paid monthly). All of these plans can also be paid annually, which decreases the monthly price for the premium Airbit plan by 60% and the Beatstars paid plans by 20-25%, respectively.
Just to break down the premium plans a little more if paid annually: Airbit's Platinum plan if paid annually is $7.99 per month (60% savings). Beatstars Pro Page plan if paid annually is $14.99 per month (25% savings).
So, when it comes to the paid plans, Beatstars currently has more options, but Airbit offers much more savings when it comes to paying annually.
How Do the Plans Compare?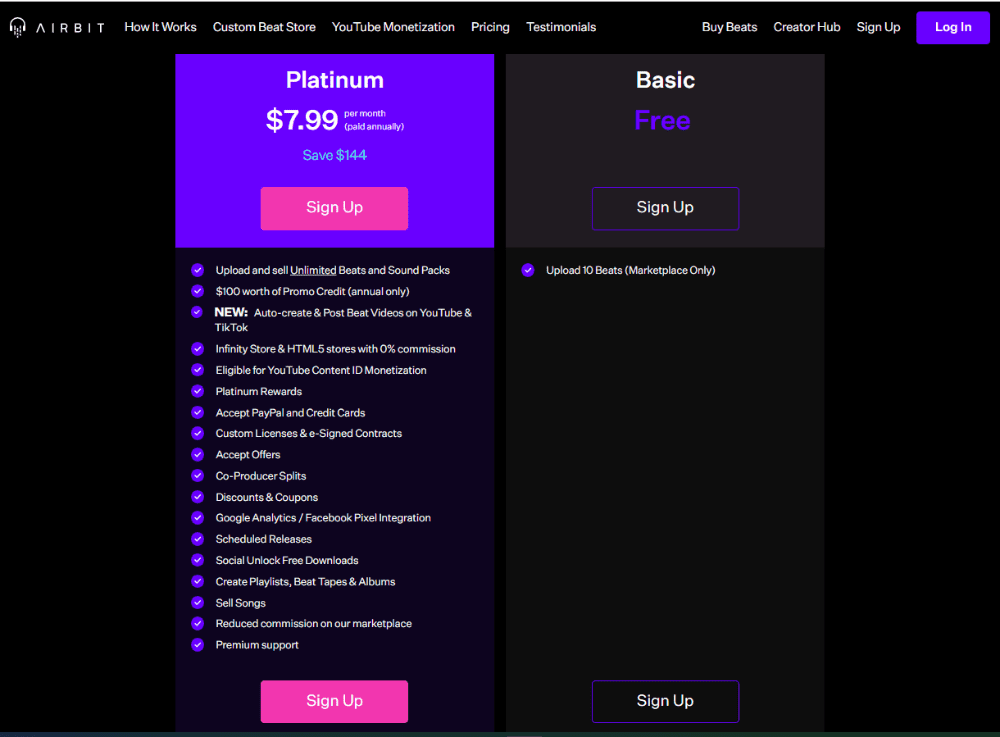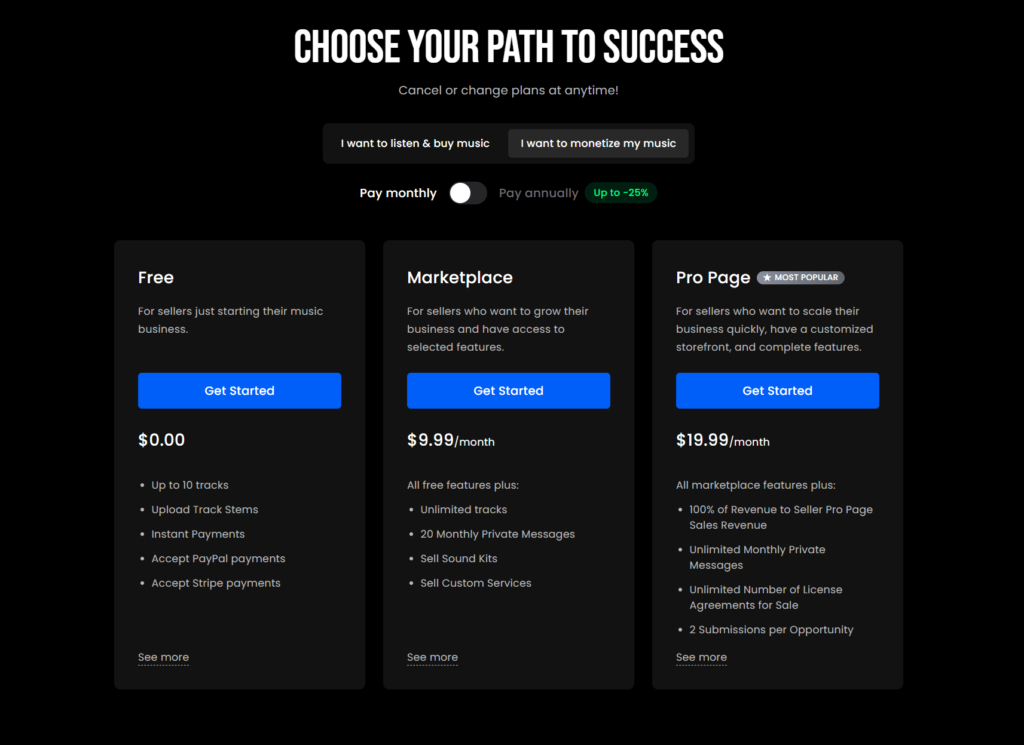 The Free Plans
Both the Beatstars and Airbit free plans allow you to upload 10 beats and allow you to accept payments via Paypal and Credit Card. Now, 10 beats isn't that many, but it is enough to get started.
Both Airbit and Beatstars allow you to keep 100% of your revenue from your beat sales on the free plan as well. Previously, Beatstars took a 30% commission from beat sale revenue from producers on their free plan, but have since changed it so that producers get 100% of beat sales revenue.
The Mid-Level Plans
Currently only Beatstars is offering a mid-level plan, so I have included its details below.
Beatstars Marketplace Plan
Upload Unlimited Beats
Accept Paypal & Stripe Payments
Keep 100% of Your Sales Commission
Standalone Embeddable Beat Player
Exposure in Beatstars Marketplace
Youtube & Soundcloud Monetization Available
Sell Sound Kits
Custom Licenses & Contracts
Co-Producer Splits
Email/Mailing List Integration
Placement Opportunity Submissions
Analytics Integration
These aren't all of the features for the Beatstars mid-level plan, but these are some of the more essential features that it offers.
Update 8/3/22: Airbit did have a mid-level plan (Gold plan), but it appears that Airbit has removed their Gold plan for the moment and are only offering their Platinum top-level plan and their Free plan. So, if you are wanting a mid-level plan for $9.99 a month, the Beatstars Marketplace plan is going to be the only option.
The Top-Level Plans
When it comes to choosing a top-level plan, it's not necessarily about which plan offers the better features. It's about which one offers the features that you want. Both of their plans are $19.99 per month (if paid monthly). The big difference, as we've already covered, is that Airbit's top-level plan is only $7.99 per month when paid annually compared to Beatstars which is $14.99 per month when paid annually.
Airbit Platinum Plan
Airbit's main premium features in their Platinum plan is their Infinity Store and Platinum Rewards additions.
The Infinity Store is essentially a completely custom store where you can sell your beats and sound packs. It can be embedded on your personal website or you can use the Infinity Store itself as your beat selling website, as it has its own unique link. You can also use your own custom domain name as well. To see what an Infinity Store looks like as its own website, check out this demo Infinity Store.
To see how the Infinity Store embeds on a personal beat selling website, check out this website. You can see the Infinity Store player as you scroll down the page.
Airbit's Platinum Rewards is a unique feature that only Airbit members get to enjoy. This feature allows members of the Platinum plan to get exclusive discounts on beat making tools like sound packs, vsts, and more. Platinum members also get free sound pack downloads as well to add to their beat making library.
There is one small catch for accessing the Platinum Rewards though. You have to purchase an annual subscription to the Airbit's Platinum plan or have had paid 12 monthly subscription payments for their Platinum plan.
Beatstars Pro Page Plan
Similar to Airbit's Platinum plan, the Beatstars Pro Page plan includes some great additional features.
Beatstars Pro Page is similar to Airbit's Infinity Store. It gives you a personal beat store (and sound kit store) with its own unique link which can act as your own separate website. It's completely customizable and you can use your own unique domain name.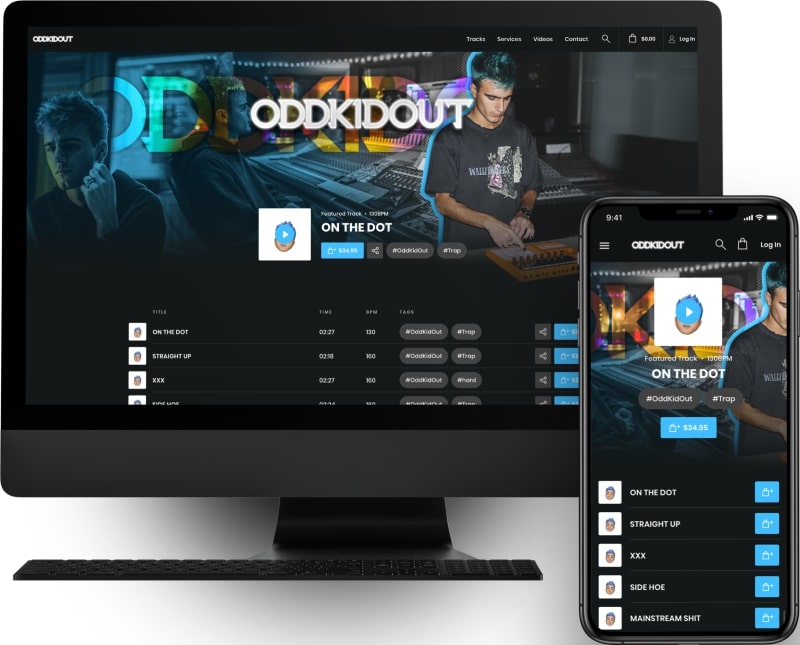 While Beatstars doesn't offer a rewards feature similar to Airbit's, they do offer some extra features that allow you to provide more services. For example, you can offer mixing and mastering services and also sell your own custom merchandise through your Beatstars Pro Page plan. Pro Page members even get access to Beatstars Publishing Service as well.
Now that we've gone over both beat selling platform's plans, let's jump into what kind of exposure you can expect from each platform. After all, exposure is something you are looking for, right?
What About Exposure?
Both Airbit's and Beatstars' marketplaces give producers a good amount of exposure. It's hard to say which marketplace gives you better exposure, but Beatstars definitely has more members. According to the Beatstars website, they have over 2 million creators (producers, songwriters, & artists) that are registered on their platform. Airbit's website states that they have more than 800,000 users on their platform.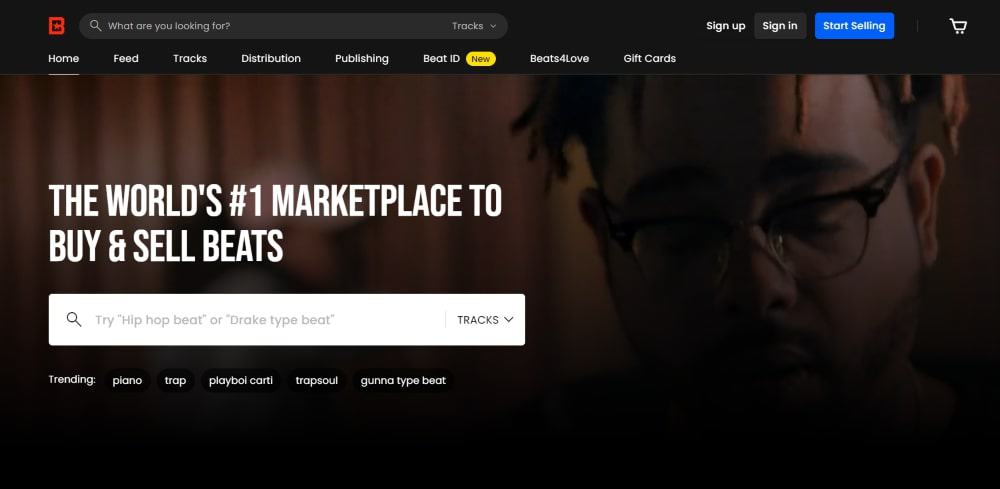 As you can see, Beatstars has a lot more creators registered on their platform which means they probably have more producers. So, that could mean that it might be more saturated than Airbit. And if it's more saturated, it might be harder to get noticed. But it also means that Beatstars probably has more artists and potential buyers registered on their platform as well.
Beatstars also states that they have 3 million unique visitors on their site every month. That's a lot of traffic that could potentially come across your beats. I'm not sure how many unique visitors Airbit has each month, but I doubt that they have as many as Beatstars.
As far as social media goes, Beatstars seems to have much more of a social media influence, especially on Instagram. As of May of 2023, they have around 530,000 followers. Airbit has around 6,400 followers, respectively. When it comes to Facebook, Beatstars has around 256,000 followers and Airbit has around 39,000 followers.
Increased Exposure with Marketplace Promotion
In order to provide more exposure for producers and beat makers, both Airbit and Beatstars offer the option to promote your beats in their marketplaces. This paid advertising option enables you to increase your exposure and get your beats in front of potential buyers. This paid option enables you to have your beats in prime locations in the marketplace. I personally have not used the promotion options on both platforms, but from what I hear it seems like Beatstars' option is the more effective of the two.
Also, just a note: Beatstars currently does not take a commission from marketplace sales, whereas Airbit does.
So which beat selling platform offers better exposure?
Beatstars definitely seems to have an advantage as far as social influence and traffic on their platform. So, it would seem that if you are looking for more exposure, Beatstars would be your answer. That is as long as it's not too saturated. They also seem to have the better promotional option as well.
Now let's jump into another a crucial component for beat selling platforms: their beat players.
Airbit vs Beatstars: Which Has the Better Beat Players?
One of the main reasons for joining a beat selling platform is to take advantage of their convenient beat players. If you plan on selling beats on your own personal website, you are going to want to use a 3rd party beat player. This saves a lot of bandwidth for your website because the beats themselves are loaded on a 3rd party server and not on the server where your website is hosted. Both Beatstars and Airbit offer feature packed embeddable beat players that will provide more than you need.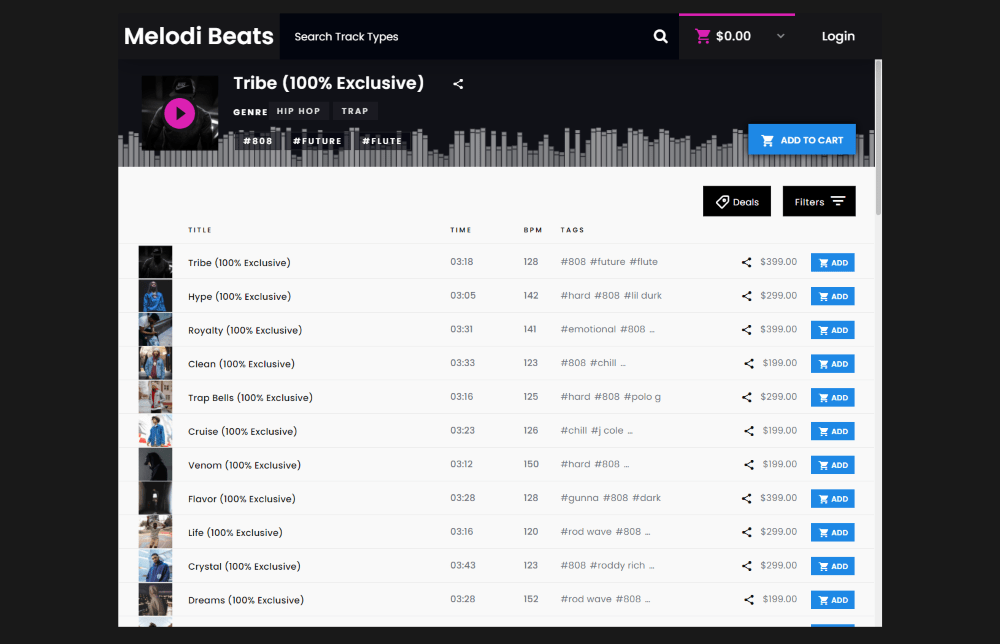 Both Beat Players Are Popular Among Producers
If you look around at most beat selling websites online, you will find that most of them use an Airbit beat player or a Beatstars beat player. And this makes total sense. Why would you want to upload all your beats to a beat selling platform like Airbit or Beatstars, and then also upload all of your beats to your website's server? That's just way too much work. Since your beats are already going to be uploaded on Airbit or Beatstars (or both), just use the player that's included with your membership and embed it on your website.
Another convenient benefit of these embeddable players is that they allow visitors to listen to your beats, choose the beats they want, and purchase them – all within the player. Your website visitors can pay with Paypal or Credit Card within the player without you having to have those capabilities integrated into your website. Pretty nice, right?
So which beat player is better?
As I said before, both are packed with a lot of features and should be more than enough for what you need. The Beatstars player does have more features, but you might not need all of them. In short, both players will get the job done. But, it has been said that Beatstar players can be a little bloated because of all their features and can cause your webpages on your website to load slower. Airbit's beat players, on the other hand, have been said to be more lightweight thus not slowing down the load time of your webpages as much.
Either way, you really can't go wrong with either beat player. Both are a much better option than uploading your beats to your website's server. But, if I had to pick one of these platforms just for their embeddable player, I'd probably go with Airbit. I like that it's lightweight and won't slow my webpages down too much.
Can I Sell on Both Airbit and Beatstars?
Obviously, we are discussing the Airbit vs Beatstars debate here, but it doesn't mean you have to choose one or the other. Both platforms provide great features and benefits, and by joining both you get double the exposure.
But can you sell on both Airbit and Beatstars? Absolutely!
There's nothing that prevents producers from selling their beats on both platforms. You can join as many beat selling platforms as you want as long they don't have some sort of clause that states you have to sell exclusively on their platform.
Airbit vs Beatstars: Which Should You Choose?
Now that you know what Beatstars and Airbit have to offer, which platform is better for you? And, remember, you can always join both.
But, to keep in focus with this Airbit vs Beatstars theme, I'll share my opinion. I would say Beatstars is best for producers and beat makers who:
want multiple monetization options such as Youtube and Soundcloud.
want to offer custom services such as mixing and mastering and/or want to sell custom merchandise.
want robust features and a platform built for community and networking.
On the other hand, I would say that Airbit is best for producers and beat makers who:
want a platform that is simple and "to the point" and focuses on conversions and sales.
want an embeddable beat player for their website that is lightweight and built for conversions.
want access to free sound packs and exclusive discounts on beat making tools, vsts and kits.
If you want to join a Beatstars paid plan, you can get a whole month free by using the promotional code MELODI when you sign up. You can sign up for a Beatstars paid plan here.
If you want to join Airbit's paid plan, simply head over to Airbit and signup!
I hope your beat selling journey goes well and is super successful!
---
Are you a producer or beat maker who sells beats on Airbit and/or Beatstars? What's your experience with these platforms? Which is better in your opinion? Comment below!